On Bokeh
The first part of article - On Bokeh Character - is here. I plan to produce a part about bokeh size and a part with some of my pictures related to bokeh theme later. I also plan to add more illustrations. This is work in progress.
What is bokeh?
Bokeh is a word which photographers use for an appearance of out of focus parts of the picture. Each bright element in scene that is out of focus contributes to overall appearance. Bokeh can be observed best on bright dots which are out of focus and surrounded by dark background. Basic shape of such highlights is a filled circle. There are some geometry rules that tell how big it will be. Those are generally known. So I will skip this part for now. What I find interesting is character of bokeh.
On Bokeh Character
What affects bokeh shape?
The character of bokeh is best observed on small light sources. This character is mainly given by optical construction of lens. Most of modern lenses have rounded aperture blades. Older straight aperture blades produced polygonal out of focus highlights (if aperture was slightly closed). While the aperture blades are rounded in current lenses they may still be slightly visible in some aperture settings. Sometimes a single blade is slightly misaligned and more visible than others. I have seen too often marketing claim "rounded aperture blades produce pleasing bokeh". But rounded aperture blades are not guarantee of pleasing bokeh.
So what else goes into a character of bokeh? Sometimes what would be a circular out of focus highlight in the center of the image has a lemon shape outside of center, gradually more near borders and edges. This is caused by mechanical vignetting because the optical path in the lens is to narrow. Resulting shape is often a intersection of two non-concentric circles, often described as "lemon shape" or "cat eye".
Distracting bokeh or not?
While shape of bokeh can be slightly distracting if it is not circular, there is another issue with out of focus highlights. It's a distribution of light inside of them. The differences in light density around edges of out of focus highlights have these basic types (red graphs show light intensity from the marked areas):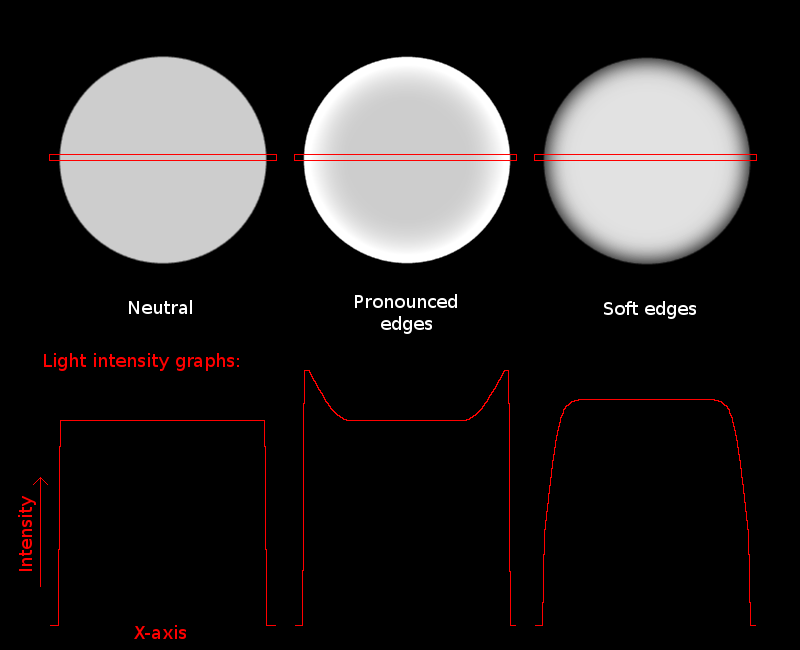 Why there is such light distribution? There is a nice explanation here (see section "Aberration and the Defocused Image"): http://www.sony.ca/html/uf/microsite/Capturing_Depth_Minisite/2.html That section of that article is really important for understanding rest of the notes here. I will probably attempt to draw similar diagram here sometimes later (with emphasis specific to what I find important). That page describes special lens called a Minolta/Sony 135 STF f/2.8 t/4.5 lens. It also shows how aberrations affect light density in out of focus areas in classic lenses. Alternatively you can see the same explanation at http://bokehtests.com/Site/About_Bokeh.html.
What happens when highlight is not a single small point? What about a line? A line will carry still some pronounced edge on both sides. It will look like a double line. What if the highlight is some big blob? You will get some bigger blob.
With such knowledge following types of classic lens behavior will not surprise you (numbering is mine, non-standard, but I will use it for the rest of the article):
Type 1: A lens has neutral bokeh, light density is equal in full area of out of focus highlights, both in front of focus and in rear of focus. Typical lenses: (super-) tele primes (except for mirror lenses).
Type 2: A lens has aberrations that create bokeh with pronounced edges for rear out of focus highlights (background). At the same time there are softer bokeh edges for front out of focus highlights in foreground, thus bokeh is creamy there. Background bokeh with edges is often distracting, but sometimes may be used as artistic. Examples of lenses with such bokeh: Nikon 50/1.4g, Nikon AF-D 85/1.8. Sample 1 - 50/1.4g in Photozone review Sample 2 - Nikon 85/1.8d in Photozone review.
Type 3: A converse of previous point - background bokeh is creamy, foreground has pronounced edges. Example: Sigma 50/1.4. Tamron 60/2 macro. Sample - Tamron 60/2 in Photozone review.
Bokeh Samples
Samples of Sigma 50/1.4 which mostly belongs to type 3 - the rear bokeh has softer edges and front bokeh has more noticeable edges (note: both pictures are JPGs in landscape picture control with sharpening value 5 of range 0 to 9):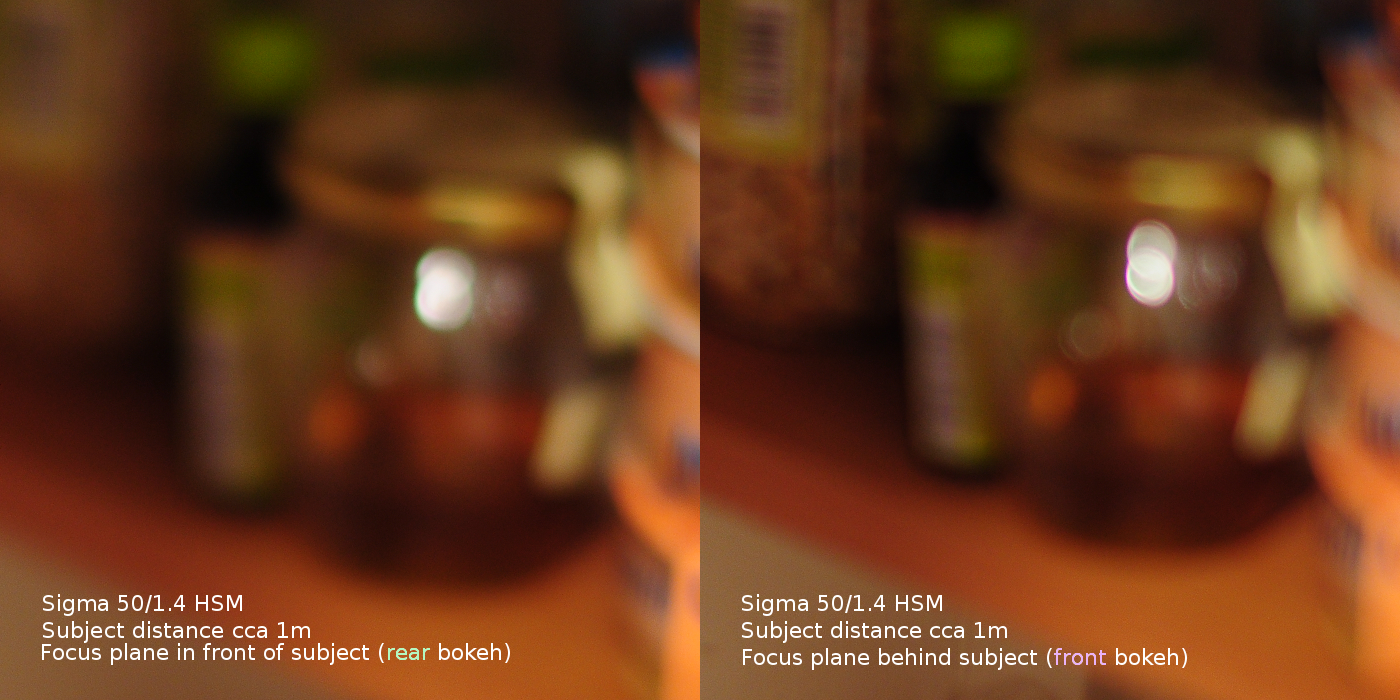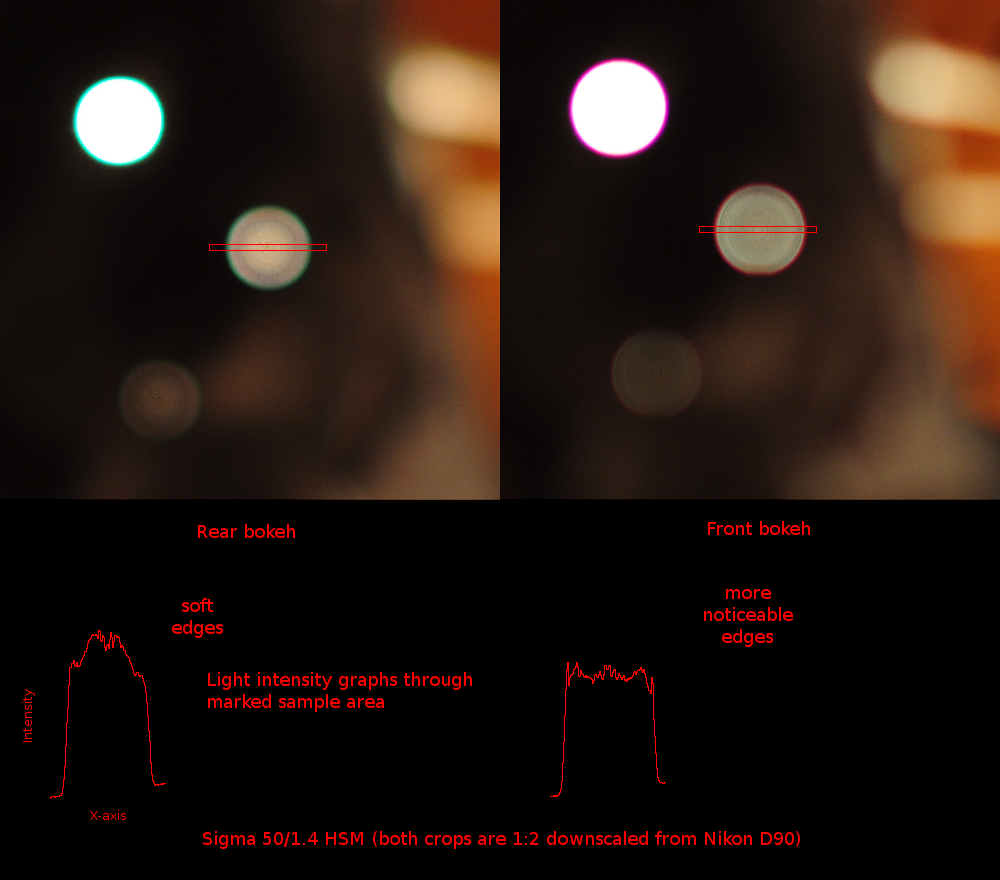 ---
Samples of Sigma 85/1.4 which mostly belongs to type 1 (shorter focus distances), and to type 2 (longer focus distances). Both rear and front bokeh is fairly "flat" or normal at shorter distances, but front is slightly more smooth. At longer focus distances you can see edges very clearly. I would rather prefer more smooth rear bokeh, like I have seen in pictures of cheap Samyang (or Vivitar) 85/1.4, but that one does not autofocus. These were captured as JPG in portrait picture control with sharpening 5 of range 0 to 9.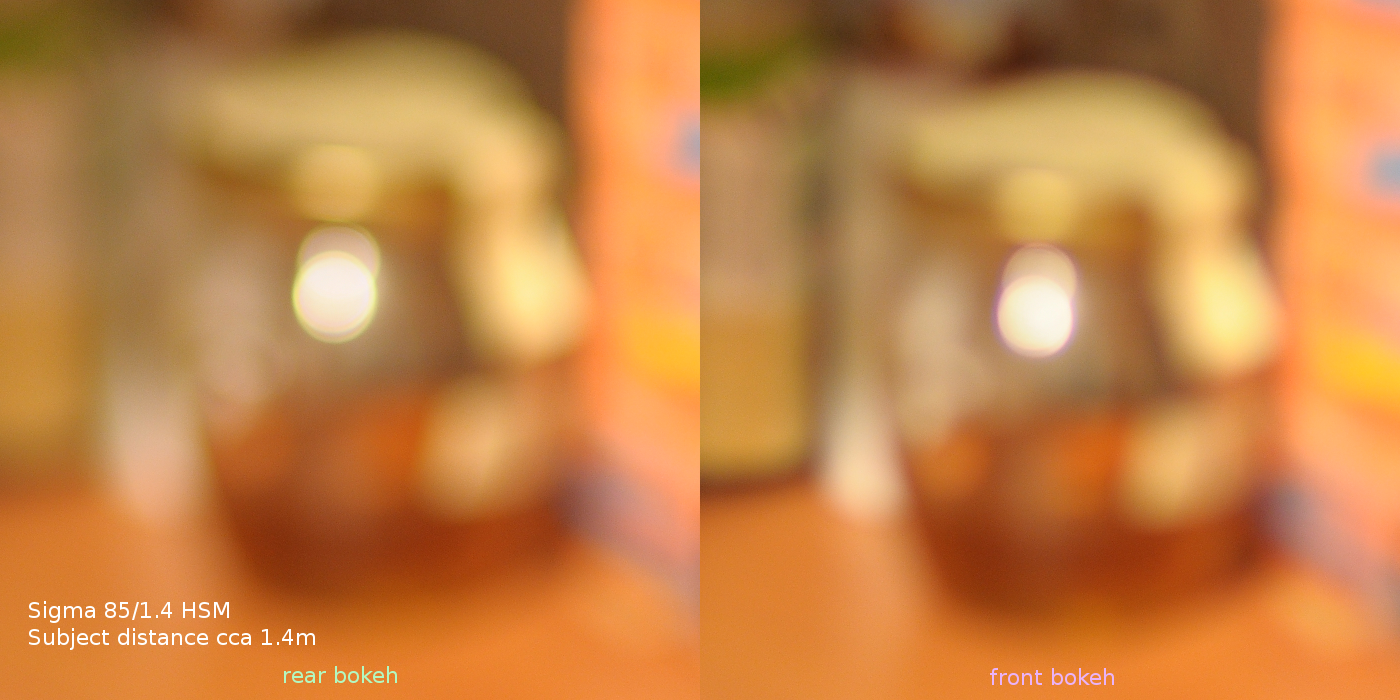 Comparison of Sigma 85/1.4 background (rear) bokeh at shorter and longer focus distances:



These statues are in my favorite location for photography practice at the Vinohrady Cemetery in Prague. You can also see high amount of purple fringing near highlight-dark object for f/1.4 (left picture), somewhat less for f/2.0 and none for f/2.8.
---
Samples of Sigma 30/1.4 which mostly belongs to type 3 - the rear bokeh has softer edges and front bokeh has more noticeable edges (note: both pictures are JPGs in portrait picture control with sharpening value 5 of range 0 to 9):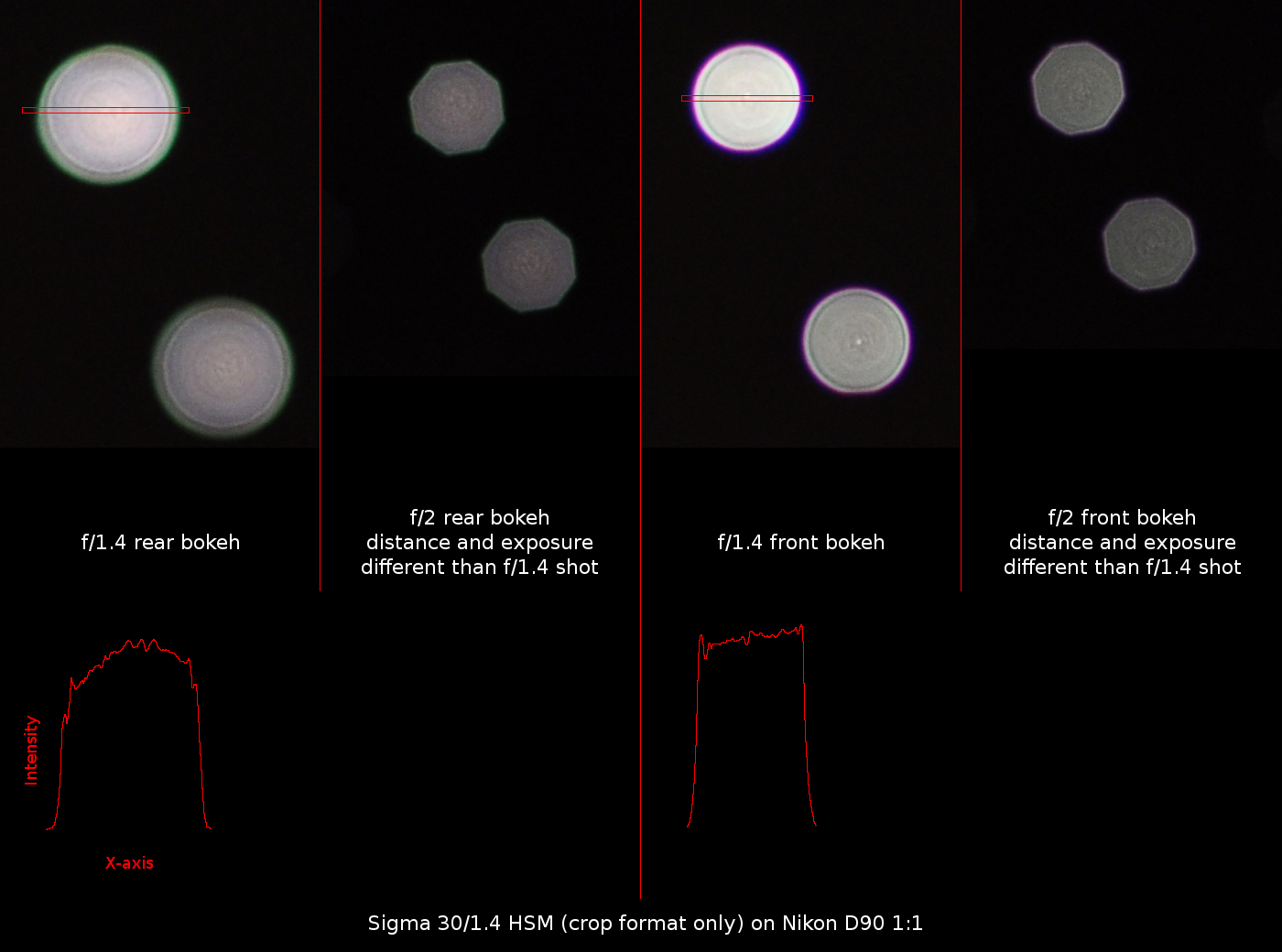 Unlike Sigma 85/1.4 and Sigma 50/1.4, this Sigma 30/1.4 has noticable polygon bokeh appearance at f/2 due to shape and position of aperture blades. The aperture blades are slightly rounded.
Exceptions to above lens types
Some lenses may behave same along full range of parameters, some may be one kind at some apertures / zoom length / focus distance, and other kind at another. Example: Nikon 50/1.4g has type 2 at f/1.4, but at f/2 or more closed it is rarely noticeable, see here: a comparison of Nikon 50/1.4 (both AF-D and AF-S G) and Sigma 50/1.4.
Other example would be Sigma 85/1.4 which has neutral bokeh at shorter distances and distractive background bokeh at longer distances (say 10m) as can be seen in my sample pictures with statues at cemetery (above).
Minolta/Sony 135 STF lens has a special optical element close to aperture blades that attenuates light going through sides; light in the center is not attenuated. This element allows to convert lens of type 1 into a lens that has both creamy foreground and creamy background bokeh. See here.
Mirror lenses. Since they have obscured center part of front of the lens, this obstruction is seen in bokeh; both front and rear.
Nikon lenses with DC - the defocus control lenses. There are two such lenses: 105mm f/2 and 135mm f/2. These lenses may be converted between type 2 and type 3 by turning DC ring.
DC lens examples
Defocus Control (DC) is a name which Nikon uses for special lenses that allow to adjust bokeh type through variable correction of spherical aberration. It is a rare opportunity that allows to study transition between lens type 2 (front creamy), type 1 (neutral) and type 3 (rear creamy), all in one lens.
Some notes
Certain backgrounds look great with any lens.
If you use in-camera sharpening or sharpen in post processing, you may also add edges to bokeh rings. Especially if you overdone it. Solution is to sharpen selectively.
Some aberrations cause bokeh circle edge to be of different color. Example is in my samples of Sigma 50/1.4 above. Solution: learn black and white photography ;-)
Typical backgrounds that cause problems when rear bokeh has pronounced edges are trees with bright sky behind. Few random images found on Flickr (not saying that they are bad, they just illustrate the idea, actually they are quite good): Random 1 Random 2 Random 3 Random 4.
A lot of people don't care about bokeh character ;-)
Strong image will be strong regardless of bokeh.
If your lens cannot make it (the bokeh you like), you can fake it.
You can also fit custom obstructions in front of lens that will affect bokeh.
I guess it is possible to convert any lens to STF type by placing a glass filter clear in center, gradually darker on sides. Best placement is next to aperture blades. Placing such filter on front element may work with long faster lenses, but it will cause high vignetting too. If you have successfully converted non-STF lens into STF, write me an email - I will link to your blog about that.
Here is page of Markus Keinath who has been experimenting with various Apodisation filters on different lenses and sent me email with link to his page: http://www.4photos.de/camera-diy/Apodization-Filter.html
Innovative methods
Here I disclose my method that I have devised on 28 May 2013 on how to get very creamy bokeh in both foreground and background. I have not read about any prior description of this method.
Title: A method for achieving out of focus highlights (bokeh) with soft edges.
Description: a camera used for still photography comprising a sensor, a focal plane shutter or an electronic shutter on sensor, and a lens that uses an adjustable diaphragm (called an aperture) can carry out this method. Context: A variable aperture is used usually to affect exposure parameters. In common use the aperture is usually fully open for focus acquisition, while it gets more closed to specified or computed value of aperture during exposure if more closed aperture is needed. The aperture is however still during exposure. Method: This methods consists of changing aperture during exposure between maximum desired aperture setting and more closed aperture setting (by one stop is enough) to affect an appearance of out of focus highlights (referred to as bokeh) in a way that outer parts of out of focus highlights will be less exposed, thus edges of bokeh will be soft. Whether an aperture is changed from desired to closed or other way has impact on appearance of moving objects or flash exposure. It can still be used in these cases as resulting image can be aesthetically pleasing in some cases.
Since all current DSLRs can close aperture from fully open to specified more closed position really quickly in between focusing mode and exposure mode, this aperture movement can probably reach enough speed to be useable for exposure speeds in practical photography. For example: Some cameras have aperture controlled by lever (Nikon F mount lenses). Nikon DSLR cameras differ in whether they allow to change aperture in video and live view modes, probably because they are limited by lever mechanism. It is quite likely a implementation of this method this could be done as firmware change on most cameras. Too bad, some companies do not allow that level of camera customization yet. Nikon DSLR does not allow this yet (but they will eventually be forced by market in which programmable cameras carry significant competitive advantage, see Worst of Nikon). Canon is better as there is customized firmware available and Canon tolerates it. In fact it is a best thing that happened to Canon.
For slow exposures in terms of seconds, this method can be achieved by manually adjusting aperture lever when freelensing.
Some lenses or cameras with lens use leaf shutters, but those are not same and they do not maintain circular or similar shape when closing. Example Fuji X100(s) has leaf shutter: slow motion video of X100S shutter
Some cameras use diaphragm as shutter. http://en.wikipedia.org/wiki/Shutter_%28photography%29#Diaphragm_shutter they however consider effect on bokeh and apparent depth of field as a bad side effect rather than a virtue. They also fully close apperture while my method may for example for a f/1.8 lens use apertures in range between f/1.8 to f/2.5, but not more closed so that there is no bright center point in bokeh while exposure time is controlled by focal plane or electronic shutter.
External Links
Some articles that go deeper into character of bokeh than just tell the rules for size of bokeh:
Back to index - Jakub Trávník's resources.